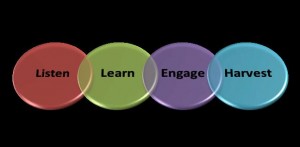 SOCIAL media platforms and concepts are all interdependent and can combine to change the way small and medium business create and harness customer loyalty.
1. Totally wired
What happens when everyone in your target audience has full, fast internet access? Or, maybe more interesting, what about when your prospects/customers are actually making their purchase decision? The increasing bandwidth and greater availability of mobile computing make these questions increasingly relevant. To take advantage of this ease of access to information, business (especially SMEs) will need to change their prospect and customer engagement to emphasise synthesis and other higher order activities.
2. Open Access to products and services
Suddenly, anyone can have access to product/service information, product reviews and recommendations, and your competitors through the much integrated web searches. There are companies all around the world opening up access to their product/service offerings enabling customers the ability to compare and evaluate your offering to the competitors in different markets.
3. DIY
The availability of free materials through a variety of websites resources enables people to create or assemble their own product/service, often for little or no cost. Its recommended that you strart off with making how-to and DIY videos and emphasise the extent of difficulty. Then come to the point that your business just simplifies these steps and your customers do not have to worry about getting it wrong about the DIY hassles. While the value of your business lies much more in interactions than it does in just providing a product/service, this will have an impact on how people view the role your business in the industry.
4. Massive Online Communities
It has become a fact that massive online communities represent one attempt to replicate (or replace) the impact of face-to-face interaction. These communities are designed to alleviate some of the problems encountered in actual consumption by forcing customers to learn through experiences of other customers. The idea is to get involved and moderate your customer base. Give them solutions to their issues or problems in the forum they like. Forward them to your company's help or FAQ pages (develop them if you don't have one). Being proactive will allow you to build intelligence on how your customer base is thinking.
5. Mobile
People can now access large amounts of data wherever they are, 24 hours a day. This means that your company does not have to be tied to a physical location. The impact of mobile is one of the drivers behind the feasibility of online communities and DIY help sites. Cloud computing is another key driver. Several of these trends are creating feedback loops that make geography less important.
6. Value Proposition
The collective impact of several of these trends will lead to opportunities to innovate in the value that is created through your industry. Most companies have always provided more than simply customer dealings – factors such as accreditation, validation, interaction and socialisation are also important. Previously, these have been tied to physical company locations that have been prescriptive in how customers achieve these outcomes. As consuming of product/services becomes unmoored from physical locations, will the other functions do so as well?
7. Social
The use of social media tools underpins many of the previous ideas. Blogs, social networks (e.g. Twitter and Facebook), and other social tools like bookmarking (Delicious and Diigo) support initiatives like online communities and take advantage of trends such as mobile. The use of social also leads to new opportunities as entrepreneurs, business owners, managers write blogs and find other ways to engage with their customers, stakeholders, and the general public.
8. Engagement
One of the outcomes of technology evolution is an increasing focus on the social impact of the way companies do business. Currently, there is an increasing trend to put a dollar value attached to how a company engages with their customer base (apart from the traditional ways). I hope this will lead to innovation in methods of engagement outside the traditional way consumers view your business.