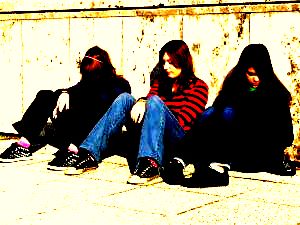 You don't need a marketing consultant to tell you that the teenager market is a big market. I have outlined five key points to be considered while you are investing your marketing dollars for the teen market. Do keep in mind that quality marketing endeavours will require time, determination, and a good budget. A good way to start is to research you own teen prospects. Once you get to know your teen prospects it will be easier to follow these five key points which will give you a head start over your competitors.
Remember your brand
From Billabong to Adidas to Abercrombie & Fitch, this generation is very label conscious. This brand awareness is not just for clothes, shoes, and other products, but it is important for your brand as well. One critical and often overlooked fact is that your brand matters. Be very conscious of how you are perceived by the teen marketplace, and realize that your brand can and will change if you do not manage it.
A phantom is a prospect that will never come to your store or website no matter how hard you pursue them. If your brand is not on top of mind your brand will not make the teen's initial shortlist. The only good way to make the first shortlist (and in reality the final shortlist) is to get them to romance the brand. It is your duty to manipulate your brand that makes teen prospects say, "I've got to have XYZ brand, and I will make sacrifices to do so." The only way is to be consistent in your branding effort, and to start early. I often say to that brands are built with teens in the pre-teen years.
Know what to say and when to say
Messages get lost for two reasons. First, they are misunderstood. Make sure the message is clear and understandable to the teen audience. Second, the teen audience never hears the message because of poor timing. Don't let your message get lost because of poor timing. Be sure to talk about your brand early and price/feature/product later. You need to build brand awareness early in the process. I suggest that you should emphasise on the brand experience early in the actual engagement cycle. As your teen prospects move through the engagement cycle three very important elements arise; results, pricing, and products. During the early stages of information dissemination, have some fun detailing and creating a picture of your brand and the overall brand experience. As you move through the communications flow, I suggest you now become more focused on what you offer (products), how much it costs (price), and what benefits will they have (results).
Convince the teen influencers
When dealing with teens, it is crucial to remember the "influencers"-those individuals providing counsel or advice to the teens. Generally speaking, early in teen years friends and high school contacts are key influencers. Make sure you keep information flowing to these audiences as they can play a critical role in your brand and in your position on the initial shortlist of three to five brands they will choose for a particular product. Throughout the engagement process, teen prospects begin to look to different people for insight. The closer they get to finalising the purchase, the closer they get to brand influencers. Peers are the influencers that will play a role throughout engagement process. Indirectly marketing to peers can and has worked for several brands. It is prudent to ask your early-decision makers for the names of few friends that may be interested.
Get real
Be cool, but don't act like a fool. Remember that you represent a great brand. Try not to be too trendy, and avoid phrases that are cool now but may be out of style in the near future. Be honest in what you say about your brand. Is what you say truly reflective of who you are? Is it your brand? Many times it is a matter of expectation not meeting reality. Marketers create an image of the brand using publications, advertising, or their Web site. This image is the one the teen grasps onto as an expectation. When they trial your product, they often find the image they had in their mind doesn't meet the reality. When expectations do not meet reality, teens will desert your brand. For this very reason I always suggest you test your marketing messages with a focus group to make sure that you are who you say you are!
Emphasise features, benefits and outcomes in your efforts
Remember one thing, with teens it's all about Me, Me, and Me. You will have to make messages personally relevant for the individual you are trying to influence. Most brands are very good at telling about their product features. We have this, offer this, do this, etc. Brands fall short in two critical areas. Why are your features of benefit to me, and what will your products do for me? These are your benefits and outcomes. Teens want to see what you have to offer and what it means to them.
I certainly believe that these five key points will help you reach your ultimate goal of building stronger relationships with your teen prospects and securing more quality customers.