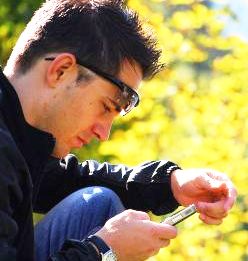 Engaging with existing customer base can be costly, particularly in today's world when advertising costs are continuing to increase and positive results from an advertising campaign are harder to achieve. In such challenging times, marketers should search for new ways in which they can assign specific segmented targets for campaigns, increase customer touch points, and analyse the information collected after every campaign in order to maximize ROI. If you are focusing on customer engagement, then, mobile marketing provides the ability to achieve all of these goals. I have outlined some key benefits of using mobile marketing as a customer engagement tool:
Easy and Instant – The message is delivered within seconds; this will result in positive touch-point. Most mobile marketing applications are very simple to operate. This means it's very easy to manage the entire process, right from creation to execution.
Cheap and cost effective – Distributing your message by SMS is significantly cheaper than postage. Currently some SMS gateways charger about 7 cents per sms sent. In addition, there are no expenses for printing. This makes it very cost effective, the more messages you send the cheaper it gets.
Delivery – Remember, these are your customers and you should gain/have the consent to send messages over mobile. Delivery is usually guaranteed, as people do not change mobile numbers that often. This is also true if you compare it with email, direct mail, and other forms of advertising.
Response Rate – Recent research shows that consumers response rate to mobile marketing is around 15%. This is much higher than your typical 1%-3% for as direct mail.
Personalisation – Message can be targeted to individuals who have opted to receive them; this provides the opportunity to personalise and tailor the brand message to a diversified audience.
Customers within reach – The increasing use of mobiles phones ensure us that mobile phones are within the customers reach 80% of every day. This means that you are more likely to engage with the customer.
One-way or two-way interaction – Mobile marketing can provide both one-way (e.g. promotion offer, special deal, etc) or two-way (e.g. click on the link to get more information, like on FB, etc) interaction. It depends on the campaign objectives. Carefully crafted campaign can be a highly effective campaign.
Marketing Campaign Integration – Integration is the key to the success of mobile marketing. Mobile campaigns like any other campaigns should be well integrated with the overall brand strategy. Current tools certainly provide the facilities to integrate your CRM systems with mobile applications to enhance their effectiveness .
Measurable – Range of measurements can be used to track and analyse the effectiveness of the campaign and linking it back to ROI. Some of the measurements can be number of downloads, page visits, customer opt-ins, etc.
However, marketers must beware the pitfalls. Mobile phones are deeply personal objects, and now, more than ever, marketers must take care to profile their customers, get to know what they want, what they need – and deliver it. The evolution of mobile marketing will drive the growth of mobile customer engagement.